Cape Cod Charter Fishing
Where do we fish?
We fish out of various different ports on Cape Cod. These include but are not limited to Bass River, Sesuit, Sandwich, and Pamet Harbor. Where we launch out depends on what we're fishing for. From these various locations, we are able to reach just about any spot on Cape Cod. When fishing for tuna we will typically either leave out of the bass river or pamet harbor. Bass River gives us access to the entire east side of Cape Cod which is best known for its tuna fishing. It also gives us access to Nantucket Sound and Monomoy Island which provide excellent striped bass and bluefish fishing. Pamet gives us access to Cape Cod Bay and Stellwagen Bank. During the fall this is where we will be doing most of our tuna fishing.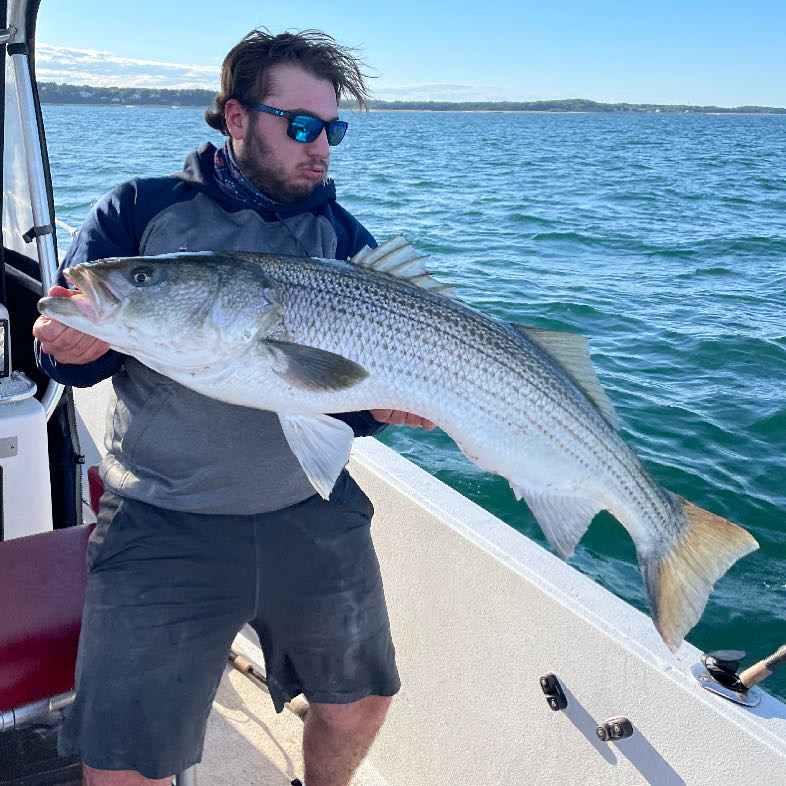 Where are the striped bass on Cape Cod?
Striped bass is one of the most popular gamefish on Cape Cod. where they can depending on recent weather conditions, time of year, and bait concentrations. Some of the more popular fishing locations are Monomoy Island, billingsgate shoals, and Nantucket Sound.
Monomoy Island is possibly the most popular striper fishing spot on Cape Cod. There are a variety of techniques that work in the rips here but light tackle spin fishing has become very popular. To do this most effectively an experienced captain will stem the tide just outside of the rip. Then the fishermen will cast their poppers or soft plastics back into the rip and work them through the waves. The stripers cruise just on the edge of the rip waiting for disoriented baitfish to come washing through and will aggressively attack poppers and soft plastics. Another popular tactic typically employed by the larger boats is trolling wire line. When doing this boats will work their way weaving through the rips with either parachute jigs or umbrella rigs attached. The pole is left in the rod holder and the boat does the work. If fishing parachute jigs you can imply some action with your hand on the line, pulling back intermittently to make the parachute pulse.
Billingsgate shoal is located in Cape Cod bay and is fished very similar to Monomoy. Billingsgate however is slightly deeper than Monomoy and sees larger numbers of big high liner head boats. Almost all the boats here will be trolling wire lines so beware of their trolling habits. They will all be trolling in line so when beginning your troll make sure your path will not cross one of theirs perpendicularly.
Cape Cod Fishing Charters
Cape Cod is one of the premier fishing destinations on the East Coast and perhaps the world. The wide variety of species including many sought-after gamefish such as the striped bass (a.k.a striper) and giant bluefin tuna make it a hot spot. Cape Cod truly does have something for everybody as there is many fish such as the sea bass or winter flounder that make for great family fun.
Over 5 million tourists visit Cape Cod every summer and here at Cambo Fishing Charters we hope to connect these tourists with the rich fishing history of Cape Cod. While many choose to venture on their own, many seek the comfort and knowledge of a local guide. A local Cape Cod charter guide is one of the best and safest ways to experience the culture of Cape Cod and have a great time doing so. Our experienced captain knows the local fishing grounds of Nantucket sound and Cape Cod Bay like the back of his hand. Whether you're looking for a light tackle fishing experience or deep-sea fishing excursions we have you covered.
What we catch & how we catch them
Here at Cambo Fishing charters, we target a wide variety of species including striped bass, bluefin tuna, black sea bass, sharks, and many more.
Our favorite has to be our Cape Cod tuna charter though. Fisherman travel from across the world to have a shot at hooking one of these massive fish. Bluefin tuna are certainly the most popular fish to target in the waters of Cape Cod. You can catch them in many ways but in recent years jig n pop has become extremally popular. This style of fishing pushes the gear and the fisherman to their limits in an all-out battle with the fish. The fun part about jig n pop is the topwater eats that also come along with it. Giant bluefin tuna will be propelling themselves out of the water to eat baitfish. If that's not your speed than the more traditional style of fishing live baits under balloons might be for you. Fishing live baits is probably the most consistent method in hooking up with these bluefin tuna.
We also specialize in striped bass charters here on Cape Cod. The beauty about striped bass is the variety of ways we are able to catch them and the fact they're excellent table fair. They typically offer a fast action-packed fishing trip that is fun for the whole family.
What gear do you need to deep sea fish?
Here at Cambo Charters, we want your Cape Cod fishing charter experience to be as relaxed and enjoyable as possible. To make this possible we ensure that we provide all the high-quality equipment needed to pursue your fish of a lifetime.
Where are the striped bass on Cape Cod?
Striped bass is located all along Cape Cod although finding them can be tricky. That's why we recommend you book a Cape Cod fishing charter to leave the hard stuff up to the captains. some of the more popular spots are Monomoy island, billingsgate shoals, and race point. All throughout the beaches in Cape Cod Bay you have a fair shot at hooking into a fish as well.
How do you fish a Cape Cod Canal?
The Cape Cod canal is possibly one of the fastest-growing fisheries in the world. Social media and he internet have made this 7-mile stretch of shoreline the most popular striped bass destination in the world. Connecting buzzards bay to Cape Cod Bay this fish highway brings in thousands of fishermen seasonally looking for their fishing trip of a lifetime. The canal holds more than just striped bass though. Those who know where to look can find bluefish, scup, tautog, black seabass, and fluke amongst its tight turns and rapid currents. Even the occasional tuna will take a trip through the canal. The Cape Cod canal is Best known for its epic striped bass blitzes and topwater feeds.
The best fishing in the canal typically occurs around the breaking tides. This is when the tide turning east coincides with sunrise. It typically provides fast-moving currents, and ferocious rips and eddy's. These strong currents can draw bait in from Cape Cod Bay and buzzards bay. Once the bait is in the canal the steep drop-offs allow for violent ambushes from the striped bass. Often times they will pin the bait against the rocks where they beach themselves just trying to get away from the feeding stripers.
Now that you know when you need to know the how of fishing the Cape Cod canal. You can leave your light tackle at home because throwing these plugs and stopping big fish in this fast current requires some serious gear. Rods that can through up to 8 ounces are a must and they should be able to throw 4-5 comfortably.
There are two main techniques when it comes to fishing the cape cod canal. Plugging and jigging. Typically plugging consists if throwing pencil poppers that weigh anywhere from 3-5 ounces. I also like to group sebile magic swimmers into this group as they're best thrown in similar conditions as the pencil. The best times to fish these lures are at first and last light. At this time of the day, stripers turn on the feed bag and will drive bait to the surface. You can either blind cast or wait for the fish to be in front of you. The magic swimmer is my favorite lure to throw in these situations. I particularly like the magic swimmer for blind casting as it has always done well at pulling fish from the depths and triggering strikes.
The other main tactic for fishing the canal is jigging. While it use to be done with bucktail jigs and took an art to tend the bottom, today with the invention of paddle tails has become much easier. Depending on the current speed, jigheads of anywhere from 3-8 ounces may be needed to reach the bottom. Lures such as the FishLab mad eel and al gag whip-it fish are great for this. The best time for jigging is anytime the fish aren't showing. This typically means anytime throughout the day and especially at night. When the fish aren't feeding they go deep and hold in little eddies and cervices down deep. Dropping one of these soft plastic jigs into these holes can trigger a bite. Jigging is also arguably the best way to target large fish. Big fish are lazy and opportunistic feeders. They'll hug the bottom and wait for an easy meal just like your jig to drift past them.
Where can I fly fish on Cape Cod?
Monomoy rips is one of the more popular locations to fly fish on Cape Cod. Striped bass feed aggressively on sand eels and this can make for some epic topwater action can be expected. additionally there is also bluefish mixed in with he stripers so a wire leader is often necessary.
Where is the best fishing on Cape Cod?
Some of the best fishing trips you can take on Cape Cod are out of bass river and Cape Cod Bay. these trips will take you east of Chatham and out past Monomoy Island into the vast Atlantic ocean. These rich fishing grounds are home to not only bluefin tuna, striped bass, black sea bass, and fluke. But it is also home to some of the best whale watching in the world. Parts of Cape Cod such as Stellwagen Bank are actually marine sanctuary's to allow for amazing whale-watching trips.
Can you fish from shore on Cape Cod?
Cape Cod has miles upon miles of shoreline that are accessible to the public. The Cape Cod National Seashore is actually a 40-mile-long public beach along the backside of the cape. Amongst these many miles of shoreline are hidden sandbars, eddies, and rocks that hold countless species of fish including striped bass, bluefish, albies, and much more. The Cape Cod Canal is also a very well-known spot for shore fishing.
Do you need a fishing license in Cape Cod?
When you book with a Cape Cod fishing charter you do not need a fishing license. You are completely covered under our federal and state permits. If you plan to fish on your own however you will need to purchase a Saltwater fishing license from the State.
What is the best month to fish Cape Cod Canal?
How much does deep sea fishing cost in Massachusetts?
Deep sea fishing rates all vary on what you're looking to do on the water. A half day on the water could be as little as 700 where as a full-day tuna charter is around 1400 not including gratuity. All Cape Cod fishing charter rates are based on the time of the trip and the amount of fuel needed to reach the fishing grounds. We offer a special tuna trip for $1000. This trip runs on commercial days only but allows the charter to have the experience of doing battle with one of these awesome fish.
What is the best time to go deep sea fishing?
We typically start to run fishing charters around the last week of April for squid here on Cape Cod. Waters around Cape Cod begin to fill with migratory species and by June almost all of our favorite fish like the striped bass, bluefin tuna. fluke and black sea bass are all here. The best time of year to go deep-sea fishing depend on son what you want to target.
Bluefin tuna fishing is great starting around the first week of July and typically stays hot through the summer and into late fall. Striped bass fishing typically peaks in June and July But fish can be caught right through the summer and into the fall. The best time for fishing charters here on Cape Cod is whenever you can make it. Cape Cod fishing charters run from May – December and in that time frame, there will always be something that is biting hot.
Where can I fish for Tuna on Cape Cod
Cape Cod is a world-class tuna fishing destination with various spots scattered throughout. Here at Cambo Fishing Charters, we pride ourselves on offering one of the best fishing charters around to target these marvelous fish. Bluefin tuna is a large pelagic species and a boat is necessary in reaching the offshore spots where these fish reside. That is why we recommended going with a tried and trusted Cape Cod fishing guide to putting you on these fish of a lifetime.
One of the more popular destinations known for holding large quantities of tuna is east of Chatham. East of Chatham is a very generalized large are consisting or crab ledge, the regal sword, and what is also generalized as the 3-mile line. all 3 of these spots lie along a steep drop-off from 150ft of water to over 500. The fish use this drop-off as a migration highway and travel up and down it throughout the summer. This drop-off also provides a structure for baitfish which draws the tuna in to feed. The past 3 seasons have seen absolutely epic feeds of recreational-sized bluefin. Particularly this last year 2022 saw incredible feeds. Large amounts of sand eels were stagnant around the regal sword wreck and this made for some extreme fishing. The sand eels and tuna stuck around in this area from late June all the way till early September. This sand eel feed is provided not only for some excellent tuna fishing but also for some excellent whale watching.
Another extremely productive spot and possibly the most famous tuna fishing spot on Cape Cod is Stellwagen bank. Stellwagen bank is a national marine sanctuary and is protected from trawlers and other heavy-duty commercial fishing vessels. What makes Stellwagen bank so special is its location right at the entrance of Cape Cod Bay. All the fish that enter Cape Cod Bay must first pass over Stellwagen. To the east, it slowly slopes off into the depth, and to the west a steep drop-off into the bay. This prime bottom structure allows for upwelling of ocean nutrients flowing in from the Labrador currents that come from across the Atlantic ocean. This then starts the food chain from the base up bringing in all sorts of fish and whales. Stellwagen is also a major spawning ground for sea herring in the fall. This makes it a great fall fishery.
Just north of Stellwagen is Jefferies ledge. Jefferies is similar to Stellwagen in terms of bottom contour but the actual bottom substrate of the bottom is a little different. Jefferies ledge is a very rocky bottom and has all sorts of bait and groundfish. Anchoring is a very common strategy up on Jefferies because holding on to a small pinnacle of structure can be the difference between catching a fish and not even marking one.
Cape Cod bay is also another extremely productive and close-to-home spot for targeting tuna. Typically most productive in the fall, boats try and cash in on the short ride for a major payoff. Due to its close proximity to shore, Cape Cod Bay is a great option for a small boat that is trying to get into the tuna game.