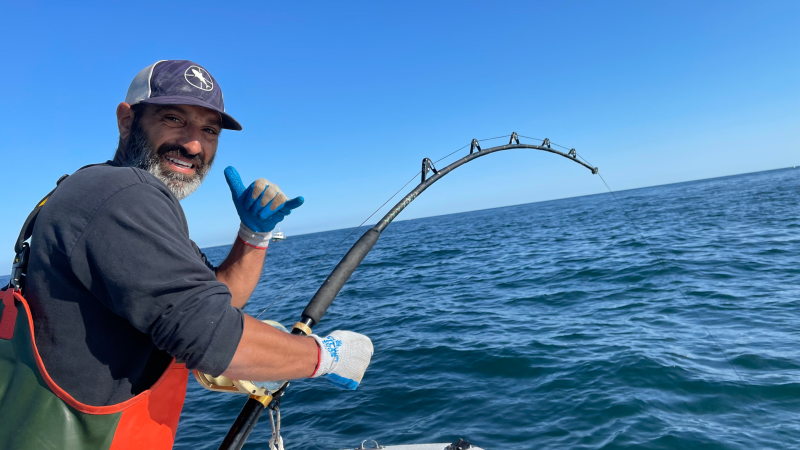 Why Bluefin tuna?
There are many species of fish that swim in the notorious waters of Cape Cod but to me, there is one that stands out above all else and that is the bluefin tuna. The giant bluefin tuna is regarded as one of the strongest fish in the ocean and we're lucky enough to have them in abundance right here off Cape Cod. Ever since I heard the screaming drag of my first tuna I've been hooked and it's an addiction I'll have for life. To me chasing bluefin tuna off Cape Cod isn't just a hobby but it is my passion. Running Cape Cod fishing charters has brought my passion and turned it into my lively hood. Now my goal is to share this experience of a lifetime with you in the best fishing charter possible. Fishing Cape Cod is our passion!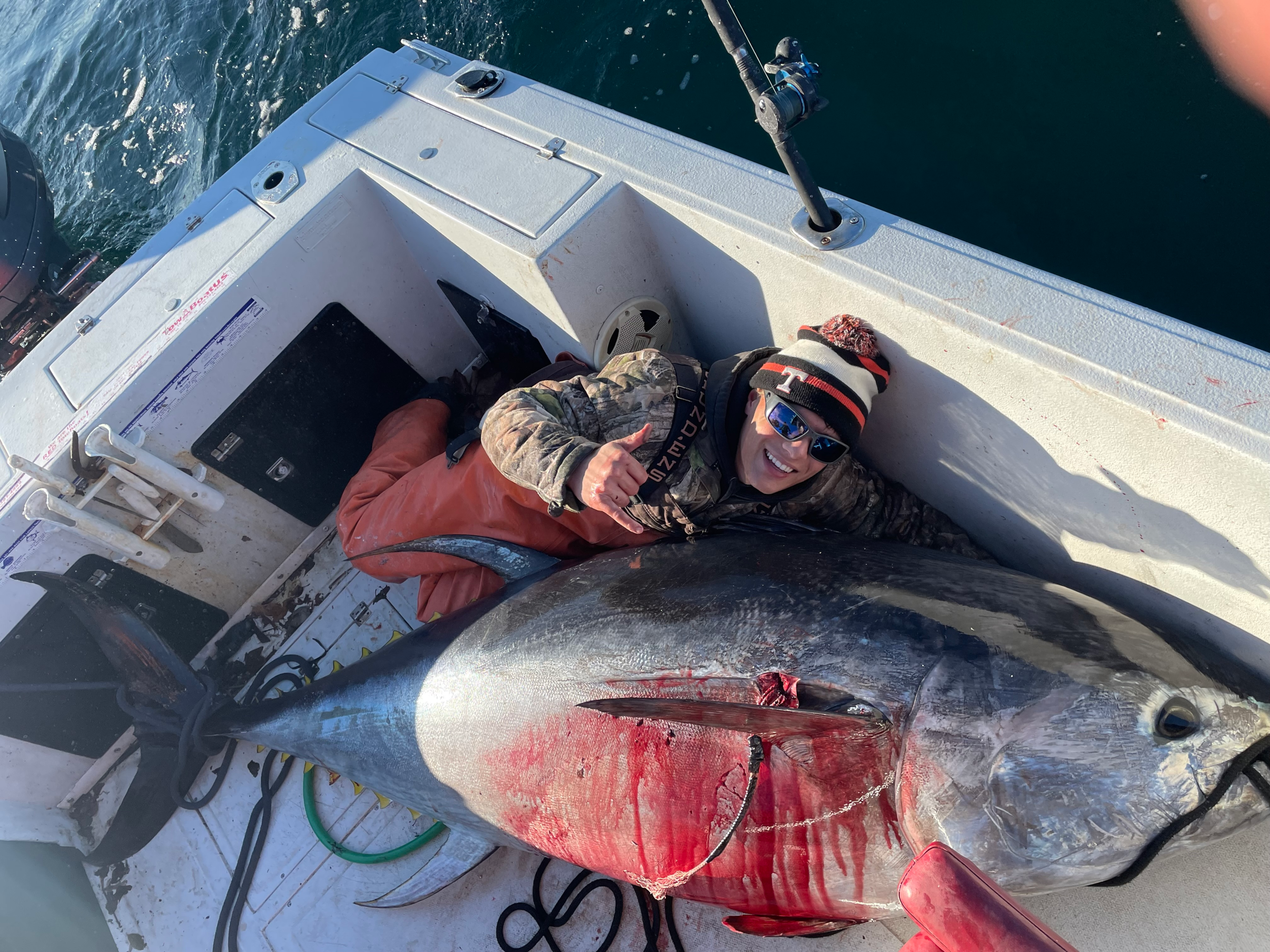 What do you use when tuna fishing?
There are many different tactics we employ to catch these fast and ferocious fish. One of the more popular tactics that have come about in the past couple of years is light tackle jig n pop. This light tackle experience puts the boat and anglers up close and personal casting to breaking bluefin tuna with spinning gear and pushes the anglers to their limits. In the Fall tuna can be feeding on a variety of baits during this but sand eels and half beaks are the most common. With this style of fishing, we typically try to target the smaller school-class bluefin but occasionally giants are hooked.
When we target giant bluefin tuna we typically use slightly different tactics as we typically try to fish live baits under balloons. These live baits are usually mackerel but tuna also love eating blue fish. To me, this is the most exhilarating experience in bluefin tuna fishing as at any moment you can hook into a thousand-pound fish that can drag the boat around. The battle with this fish of a lifetime can last hours and is a great time. I personally can remember every tuna I've ever caught as everyone is different and offers a different experience.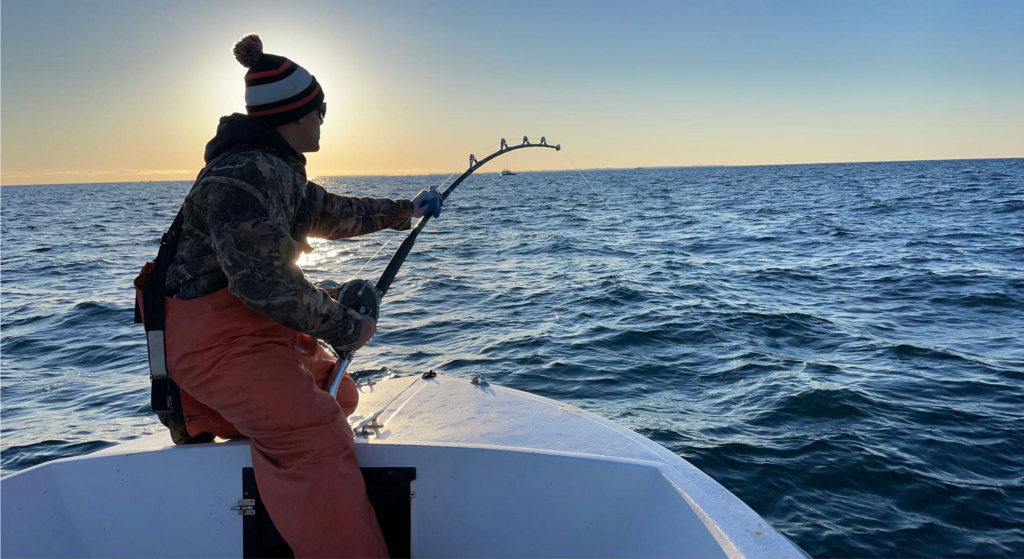 Where do you go tuna fishing?
There are many locations in the waters surrounding Cape Cod that are historically known for holding large concentrations of tuna. While we may stray out and try to search for fish, often times our day of bluefin tuna fishing will start at one of these various locations.
Perhaps possibly the most widely known tuna fishing locations and a popular destination for charter boats is Stellwagen bank. This underwater mountain located at the entrance of Cape Cod bay is an attraction for all sorts of sea life. The upwelling on the eastern edge and steep drop off too the west provide sharp changes in water temperature and often times there is bait throughout the water column. Stellwagen bank is a popular location in the fall to catch fish on spinning gear but don't let that deter you from trying your luck there with a giant. The bait and halfbeaks that bring the school bluefin there is the same bait that the giants will be feeding on.
The second main location and perhaps the most productive area is known as east of Chatham. While typically known as a very large area, east of Chatham is a fish highway, and anytime spent out there you have a fair chance at hooking a fish. The past few seasons in the mid-summer there has been an epic bite here for giant and school class bluefin and we have had more productive trips there than I can even count. If you are looking for tuna fishing Barnstable MA click here!
Cape Cod Fishing charters
The waters surrounding Cape Cod are abundant with a variety of life such as squid, mackerel, halfbeaks, sand eels, and a variety of other baitfish. All this forage brings in the large gamefish Cape Cod is known for such as the striped bass, bluefin tuna, and even some of the smaller species such as sea bass and fluke. This abundance of baitfish not only brings in gamefish but also other marine life that was likely to encounter on our trips such as sea turtles or a surprise whale watching tour.
A typical charter day with us may start at the Bass River launch in South Yarmouth as we prepare to steam out and begin our day on the water. Depending on where we're fishing we may round Monomoy island and point the boat east into the rich waters of Cape Cod. From here we can target anything whether it be a fluke, sea bass, bluefin tuna, or striped bass (a.k.a stripers) . My goal as an experienced captain is to provide you with a fun, safe, and energetic experience on the water where you can make memories of a lifetime.
Cape Cod Tuna Fishing
If you are on Cape Cod and would love to catch a bluefin tuna, call us now to book in the 2023 season. You might even see the humpback whales that you see on the fishing videos during the high season! If you are looking for a fishing trip with a great experience, give us a call today.
We have been hammering Tuan the past few days. They are about an hour boat ride depending on the seas!  Here is our latest catch.  Call today to book your tuna charter.