If you have been to Cape Cod, you know of its magnificent fishing spots across the northeast parts of the ocean. Taking a tuna fishing trip in Cape Cod will pump your adrenaline from zero to one hundred. The best fishing experience for you and your family or friends. Cape Cod fishing has always been top-notch, but bluefin tuna fishing will give you a thrilling experience. Here is what you need to know about Cape Cod Tuna Charters in and around the Cape.
Bluefin Tuna Fishing
The high season for tuna is from early June to November. Early in the season, the bluefin tuna is generally on the southeast corner of Stellwagon bank and around province town and east and south to Nantucket Sound and beyond. You will find large schools of striped bass feeding in the same spot you are fishing for tuna during this time. Even for the most experienced anglers, catching the bluefin tuna is a ton of work. Your heartbeat will be racing as it can take hours to battle and secure this big fish. A Tuna fishing trip will lead you to places like Stellwagen bank, which is famous all over the world for its large population of bluefin tuna. When you go to the backside of Cape Cod, you will find a big migrating school of giant bluefin tuna. Selection of the right bait will hand you the mighty giant bluefin tuna!
Cape Cod Tuna Fishing Techniques
The best fishing techniques to target bluefin are through trolling and jigging. Jig and pop style is the most exciting fishing in Cape Cod, if not the world. Many anglers swear by this method. It works magic, especially when the fish are small giants. This is the best approach to catching giant bluefin tuna. First, you place bait and then play the waiting game. When the fish strikes, the battle begins. Trolling for striped bass on Cape Cod with the tube and worm during summer works perfectly. Especially when the stripers are in the deepest bottom.
Cape Cod Species
On your fishing trip, y are likely to catch various types of fish:
Giant bluefin tuna- Fish made for speed, with retractable fins. Commonly said to be warm-blooded. They are delicious to eat and a top predator in the water
Marlin- Most people call it the perfect game fish because of its speed. They are attracted to warm waters that spill out of canyons in their search for bait.
Black Sea bass- This is one of the most aggressive bottom fish in Cape Cod waters. They are found in Nantucket and Buzzards bay. They are easily lured by drifting a strip of bait of squid or fluke belly.
Blue fish-  They arrive in mid-June and stay towards mid-October. They follow baitfish like the squid near the shoreline.
What to Expect From Cape Cod Fishing Charters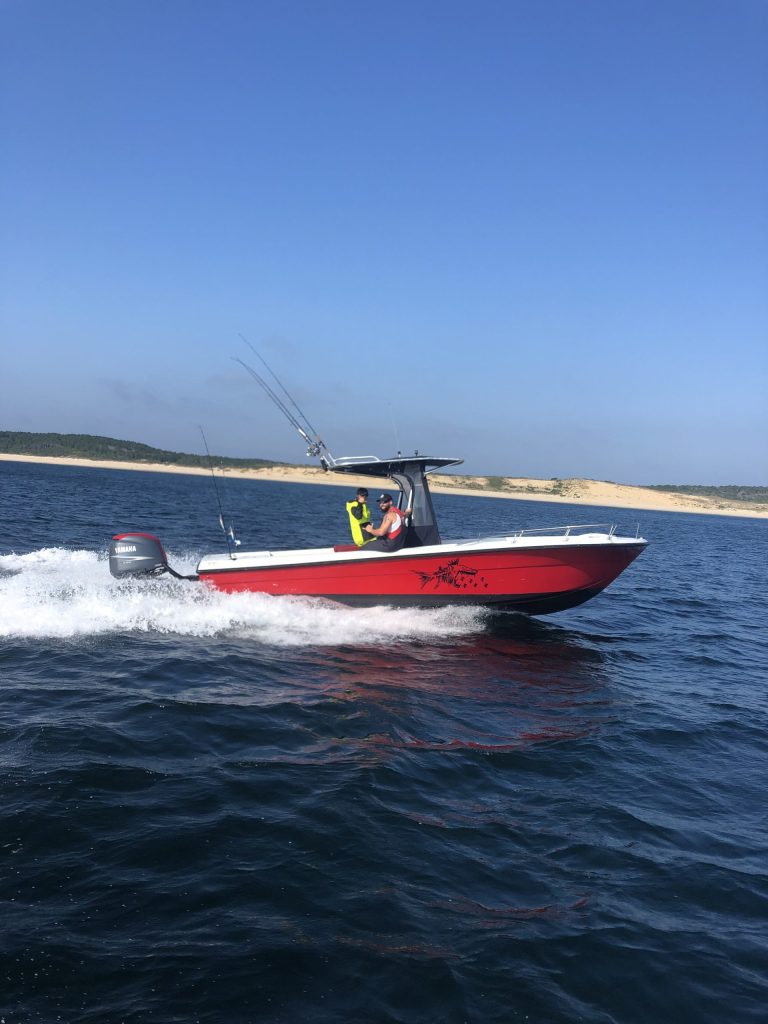 The fishing charters in Cape Cod have been providing wonderful fishing experiences to tourists over the years. Whether you visit the Island as one group of serious anglers or you are coming for a holiday, a memorable fishing experience is guaranteed.
Apart from catching the giant tuna fish, you will see the dolphin, whales, and sharks. You will get instructions from your captain on what is expected of you. Fishing is not the only activity that will take place in the water.
Sit back and enjoy the view. From day trips to night trips with the most powerful charter boat, Cambo charters promise you a great time.
Final Remarks
If you are visiting Cape Cod, you should spend at least one day on the ocean surface. Book a trip today with Cambo charters to get the best captain with affordable rates around Cape Cod. Experience the beautiful sceneries on Sesuit Harbor, Saquatucket Harbor, and Harwich Port. Catch the beautiful sunsets as you catch the world's greatest fish in the ocean. We have explored the waters for many years, from fall to summer. Contact us today to book a fishing trip and make memories on the water.