Cambo Fishing Charters offers a wide range of fishing services along Cape Cod Canal custom-tailored to meet guests' preferences. The company welcomes new bookings for Tuna Charters, promising an unforgettable fishing experience.
July 16th 2023 – Cambo Fishing Charters, located in Massachusetts, is one of the leading providers of private Tuna Charters along the Cape Cod Canal. The company has recently announced its open to taking on new bookings for Tuna Charters, one of the fishing services it specializes in.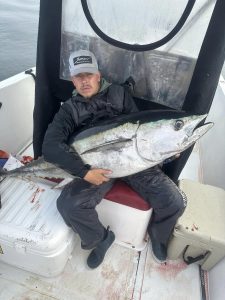 For fishing enthusiasts looking to explore the beauty of the Cape Cod Canal and enjoy sports fishing with a twist, Cape Cod Tuna Charters offers a perfect experience. Cambo Fishing Charters is headed by Captain Cam, who has always loved to bring a smile to his guests' faces by helping them catch their trophy, Giant Bluefin Tuna.
Captain Cam of Cambo Charters has OUPV six-pack coast-guard license and is pursuing nursing at UMASS Dartmouth. One of these specialties includes Giant Bluefin Tuna Charters, and booking the same in advance is always the best way to ensure guests don't have to face disappointment at the last minute.
For people looking to dive into the world of sports fishing in safe and professionally guided Westport Fishing Charters, Cambo Fishing Charters promises a unique experience. Captain Cam Faria is USCG licensed and goes the extra mile with his crew to ensure every guest on board goes back home with a smile and tons of happy memories.
Irrespective of whether the guests are fishing for the first time or are experienced anglers, Captain Cam and his crew ensure their recreational onboard experience is worthwhile. All the fishing gear and equipment are available on the boat, and the guests don't have to worry about bringing anything. The captain and the crew also educate the guests about fishing in the inshore and offshore fishing grounds, tips and tricks on how to reel in a giant Bluefin Tuna, and more.
While Cape Cod offers a variety of entertainment options, not exploring Cape Cod Canal and the surrounding Atlantic Ocean through Cape Cod Tuna Charters would seem like a loss. With spectacular views of the ocean, mesmerizing sunrise or sunset views, and views of the picturesque Cape Cod landscape, Cambo Fishing Charters promises an amazing fishing experience guests should take advantage of on their trip to Cape Cod.
Cambo Fishing Charters have a wide range of packages to suit the needs of friends, families, and corporate groups looking to go on Tuna Charters. Currently, the company's boats can accommodate up to 6 guests onboard their boats and offer both bottom-sea and deep-sea fishing services for guests. Apart from targeting Bluefin Tuna, the guests can fish for Striped Bass, Tautog, Scup, Fluke, Porgy, and Haddock.
For more information about Cambo Fishing Charters or to book Tuna Charters for the current season, call (508) 525-1922 or visit CamboFishingCharters.com
About
Cambo Fishing Charters is one of the oldest and most reputed operators of private Tuna Fishing Charters in Cape Cod. The company is headed by Captain Cam Faria, a USCG licensed captain, passionate and experienced in offering sports fishing services in and around the Cape Cod region, specializing in Tuna Fish Charters. The personalized fishing experiences that Captain Cam and his crew offer make Cambo Fishing Charters a preferred choice for booking private Tuna Charters in Cape Cod.